Sometimes it's the little things that puts a group's hard work and dedication in perspective.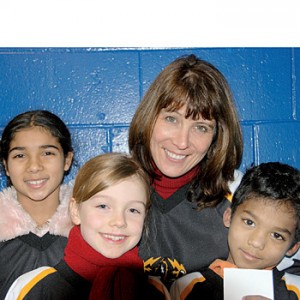 Sometimes it's the little things that puts a group's hard work and dedication in perspective.
PuCKS (Promoting Community through Kids in Sport) is a good example.
Founded by a local mom and run out of Langley, PuCKS helps marginalized children. The program supports these kids – who face either physical, financial, cultural, or behavioural challenges – on-ice by helping them to play hockey and off-ice via Lit Fit, PuCKS' homework and literacy program.
For program founder and director Connie Klimek, the impact PuCKS had on one particular parent resonates.
"When I first met her, she wouldn't have eye contact, kept her head down, couldn't write an email, couldn't confidently speak, and now that her son is the captain, three years running, of a 'C' team, she looks me in the eye, she writes emails, she's articulate, so it goes beyond the kids," Klimek said. "To see that ripple effect, there's a real 'wow' factor."
These days, Klimek is tirelessly promoting the program's annual gala, scheduled for Nov. 25 at the Langley Events Centre
Former Vancouver Canucks' captain Trevor Linden – a B.C. sports icon – is the special guest.
Linden comes courtesy of his connection with PuCKS board member Moray Keith, owner of the Langley Chiefs junior A hockey team.
"Moray is really passionate about PuCKS as is his wife Pam, and so [they] were instrumental in getting Trevor to support us," Klimek said.
Linden will reflect on his hockey career during a fireside chat, hosted by Sportsnet Pacific's Craig MacEwen. They will be joined by two other yet-to-be-named hockey personalities.
"We could not believe it," Klimek said. "Trevor Linden? Trevor stands for everything PuCKS aims to achieve in these kids. Trevor's depth of spirit and strength of character is what makes him such a hockey hero. His success goes well beyond hockey. He is a role model who sends the message we want PuCKS kids to have."
The PuCKS gala has enjoyed star power since its inception in 2007, when the legendary Mr. Hockey, Gordie Howe was the special guest, joined by Ryan Walter, Geoff Courtnall, and Garry Unger.
The National Hockey League's second leading scorer spinning puck tales was an unforgettable experience.
"Gordie is a spectacular man," Klimek said.
"Gordie had the audience rolling with laughter as he described his perspective on hockey, then and now," Klimek said.
Laughter turned to tears as Howe recounted his love for, and years of companionship with, his late wife Colleen.
"Gordie became real," Klimek said. "He was no longer just a famous hockey player. He was a real and kind man."
In 2008, Canadian Paralympic sledge hockey goaltender Paul Rosen appeared at the PuCKS fundraiser.
Howe, Rosen, and Linden – quite a distinctive list of supporters for a program that was just getting off the ground back in 2005.
"We were simply trying to get more Langley kids on the ice: kids whose parents are working their tails off – three jobs sometimes – who just need that little boost to feed the family and get their kids into hockey," Klimek recalled. "This continues to be PuCKS' main goal."
In 2006, PuCKS came to realize that these kids needed support beyond hockey; they needed to actively participate in the program and stay focused on their school work.
PuCKS' "hockey scholars" complete an annual "accountability contract" and participate in Lit Fit (literacy project/homework club) each week. Each participant writes his/her success story and goals related to hockey, school, and community.
The following year PuCKS looked to extend its scope to help children with physical disabilities. PuCKS worked closely with Sportability in 2007 to open more doors for B.C. children to participate in sledge hockey, and maybe even represent Canada at the Paralympic level.
PuCKS offered 20 sledges and sticks to Sportability to make this goal a reality.
Last year, PuCKS reached out to newcomers to Canada.
The Canadian government welcomed 2,000 Karen refugees from their war-torn home of Myanmar and 300 people (57 families) have settled in Langley. The agencies and churches that supported them sought assistance from PuCKS. The Karen children and their families face unique and challenging needs: language, health, employment, and culture.
PuCKS offered hockey as a tool to help 33 of the Karen children connect with other local families, learn the language and be an active part of the community by playing hockey – in the tennis courts, on the ice and on mainstream teams.
"Langley's entire Karen community, adults and children alike, are benefitting with PuCKS support," Klimek said.
Klimek has a vision of PuCKS reaching out to 158 B.C. communities. Currently, PuCKS helps children and their families in the Langley/Aldergrove area.
"Every community that has a minor hockey association or ice facilities, we want to get this rolling," Klimek said.