By MIRANDA GATHERCOLE
September 17, 2012 Langley Advance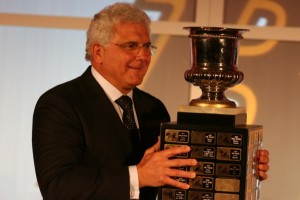 Beyond the intense competition, athletic training, concentration and determination, playing team sports is ultimately built on the foundation of establishing relationships and creating a community.
This concept will be the main focus tomorrow night (Sept. 19) at the fourth annual Sports Heroes Dinner benefiting the PuCKS (Promoting Community through Kids in Sports) program.
The gala, being held at the Langley Events Centre, is welcoming BC Lions general manager and vice-president Wally Buono and CEO and president Dennis Skulsky for an evening of discussion about the role of sports in strengthening individuals and ultimately a community.
"Wally and Dennis are going to come and talk about the importance of team, their stories on being management and administrators of a high-level sports team, and how team and relationships are so key and foundational to that as well," said Connie Klimek, founder and executive director of PuCKS.
PuCKS is a non-profit society that promotes kids either financially in-need, behaviourally at-risk, or recently re-settled in Canada to do well in school through the motivation of sports. All of the roughly 120 student members must participate in their special Lit-Fit program twice a week after school to do their homework, work on literacy projects, set goals and write success stories. Then as a reward, these kids have their sporting gear, registration, instruction and time playing completely covered by PuCKS.
Keeping with the theme of relationships, this year's gala will also focus on the mentorship program between the students in the PuCKS program and volunteers from Trinity Western University and Kwantlen Polytechnic University.
Students and mentors will share their stories on their experiences with each other through the program.
"It's extremely entertaining, but there's one side of it that is extremely moving. It's very real because you get the authentic stories from the kids," Klimek said.
Ron Knight, owner of two McDonalds restaurants in Langley, will also make a presentation on the success of many students from PuCKS who are now working for him.
"I can't even keep myself contained," Klimek said. "You just get so inspired, because you can really see it making a difference.
"A lot of these kids are refugees, so many have come from war torn countries with people shooting at them, they couldn't speak English three years ago, and now they're working at McDonalds. That's because of PuCKS. It's amazing."
For more information on the gala and donation inquiries, visit www.pucksprogram.ca.