by Troy Landreville / Langley Advance  October 27, 2011
Mr. Hockey and Mr. Goalie were at Saturdays Langley Rivermen game, and at the same time helped to promote a program that gives kids a step up on the ice and in the classroom.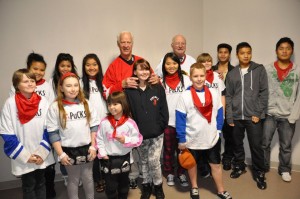 Another disappointing night, attendance-wise, at Saturdays Langley Rivermen junior A hockey game did have a pair of bright spots.
And they came in the form of hockey icons Gordie Howe and Glenn Hall.
Universally known as Mr. Hockey and Mr. Goalie, the Hockey Hall of Fame members dropped separate pucks for the ceremonial opening faceoff, while lending star power to a PuCKS fundraiser at the Langley Events Centre.
The PuCKS program offers Langley boys and girls in-need (between the ages of 10 and 16) an opportunity to become hockey scholars, explained founder and executive director Connie Klimek.
PuCKS offers hockey, after-school literacy, and homework clubs to youngsters who have either recently re-settled in Canada, are behaviourally at risk, or are financially in need.
Mr. Hockey and Glenn Hall, they are the kinds of guys who these children look up to, Klimek said. They aspire to be the kinds of people who these two men have emulated their whole lives.
Klimek said the PuCKS participants work hard on their homework through the Lit-Fit program and then head out to play hockey.
Ultimately they want to graduate from university and play hockey, Klimek said. Those two men [Howe and Hall], although they never graduated from university, they have the morals and the character that PuCKS kids are aiming for.
Howe was one of the special guests for the annual PuCKS fundraiser in 2007, so he is familiar with the work the local group does.
Even with Howe who amassed 1,850 points over 33 NHL seasons, third all-time among NHL players behind Wayne Gretzky and Mark Messier and Hall, who recorded 84 career shutouts to go along with three Vezina Trophy wins as the NHLs top goaltender in attendance, just 717 fans showed up to watch the Rivermen blank the Powell River Kings 1-0.
But it was a memorable night for the lucky few, including a group of youngsters from PuCKS, who visited an LEC suite to meet and have their pictures taken with Howe and Hall.
During the group photo, Howe, the perennial prankster, tapped a PuCKS participant on the shoulder and when he turned around, playfully looked away.
He also hammed it up with 18-year-old Maranda Rudolph, one of the first two original PuCKS 2005 children from Douglas Park Community School. He covered her face with his humongous hands for a second or two before taking them away.
The LEC has been a strong supporter of PuCKS, through event tickets, services and space.
Through the Vancouver Hockey Fan Fest and the upcoming World Jr. A Challenge, LEC has so far generously raised more than $4,000 for the PuCKS Powerplay Foundation.
Langley Events Centre has been amazing in terms of what theyve offered us, Klimek said in between periods of Saturdays game. Theyve given us 50/50 [proceeds] tonight in addition to asking all the volunteers for the world juniors who are coming to town to donate $25 each, and all of that money is coming to PuCKS as well.
This support is vital, Klimek said, especially at a time when the organizations coffers are near empty.
The PuCKS 4th Annual Hockey Heroes Dinner, and only fundraiser, is currently being planned at LEC for the Spring 2012.
Each year, a group of 20 to 30 Langley children register in PuCKS 4-year Power Nation Program, where each week they attend two hours of on-ice hockey instruction and five hours of Lit-Fit, PuCKS afterschool homework and literacy club.
They are mentored in both divisions by Trinity Western University and Kwantlen Polytechnic student-athletes and by Langley RIvermen Jr. A hockey players.
After these four years, PuCKS hockey scholars graduate at convocation some of whom graduate with distinction.
Hockey scholars with distinction are true PuCKS ambassadors who have demonstrated sustained dedication and effort throughout the four years they participated in the Power Nation Program, Klimek explained.
They are rewarded with entry into PuCKS Adopt-a-Player Program where they receive a sponsored scholarship into either Langley Minor Hockey (LMHA), Langley Girls Ice Hockey Association (LGIHA) or the Fraser Valley Christian Junior Hockey Association (FVCJHA).
In June, at the end of each season, hockey-scholars prepare their annual accountability contract that includes their seasons successes and their education, community, and hockey goals for next season. This contract is submitted to PuCKS Board of Directors for approval.
Power Nation is currently held in Langley City. Plans are underway to expand the program to southern, central, and northern langley areas, to keep within walking distance for the young participants.
For more on PuCKS, visit www.pucksprogram.ca.