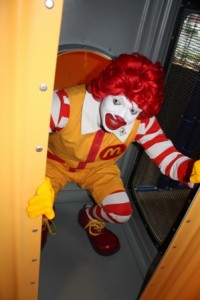 Thank you Mr. Ron Knight for inviting PuCKS kids to help celebrate the Walnut Grove McDonalds Grand Opening.
Also for the support you give to your community in so many ways one of them being our very own PuCKS Program as $500 dollars was raised from the proceeds of the new drinks Mc Smoothies and Mc Lattes purchased and a portion donated to the PuCKS Program.
We were entertained by the one and only Ronald McDonald and also had the opportunity to serve samples of the new Mc Smoothie and Mc Cafe drinks to customers throughout the afternoon.
What a great day to to be at McDonalds !