T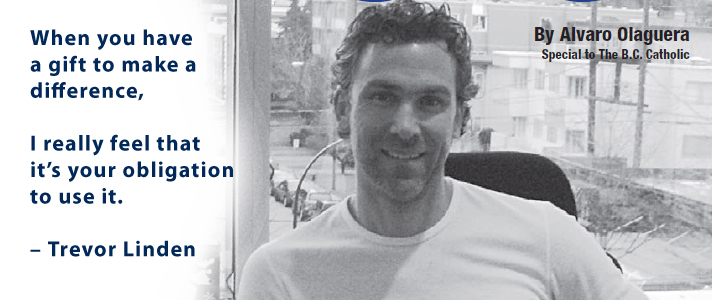 he PuCKS program, piloted from Langley, helps underprivileged children achieve personal goals otherwise out of their reach.
By combining hockey and literacy, among other virtues, PuCKS has developed an ambitious program (begun in 2005) that focuses on building personal capacity, friendship, academics, and sport. "I'm so impressed with the program and the difference it makes to kids' lives, but PuCKS is not all about hockey.
Hockey is a vehicle to motivate and create and to instil those virtues we all aspire to have. It's a program that encourages high grades and community work. It gives the gift of sport to kids who would never have had that opportunity, and combines that with having a good education and community base. I'm very impressed with the program." A CONVERSATION WITH Alvaro Olaguera / Special to The B.C. Catholic Seated in his Granville Street office at Linden Capital, Trevor Linden says athletics teaches life skills.
"All the things that make a successful athlete also make a successful family person or business person," he said. Ex-Canuck chosen to carry Olympic flame down Vancouver's Main Street Linden considers hockey and athletics arenas in which many virtues such as dedication, hard work, and determination can be learned and cultivated. The best thing is these virtues can lead to a multitude of aspirations. "Athletics is like anything else, whether you're working in a boardroom or an office or within a family. Many things in life take teamwork, unselfishness, and dedication; all the things that make a successful athlete also make a successful family person or business person." In other words, athletics must form part of a balanced and complete life, and when illumined by faith, the connection becomes even clearer. "Athletics and faith are intertwined. The virtues we practise in sport shouldn't change, whether we're working or in family life or wherever. They're part of who you are; there should be no distinction between your conduct in the rink, in the office, and at home." A recent convert to Catholicism who was baptized in 2004, Linden's upbringing in a loving and hardworking family prepared him and his older brother Dean well for the faith. "We didn't practise any faith, but growing up I saw a lot of unselfish community initiatives being done. We were always encouraged to try and make the community a better place." Linden considers community spirit what makes Vancouver special. "There are a lot of people doing a lot of good things out there. Where I came from, they [parents and coaches] expected a lot on the ice, but they expected us to be contributors off the ice too.
When you have a gift to make a difference, I really feel that it's your obligation to use it." There is reason for optimism about Vancouver's capability to host an event like the Olympics that will put the city in the spotlight of the global community, Linden thinks. "To be able to welcome the world to our city is really fortunate. We have so much to offer here in terms of multiculturalism and diversity. It will be another stepping-stone to making Vancouver a real world-class city."